Tanny
Great-granddaughter of King, AQHA # 234
Foundation Quarter Horse bloodlines
Beautiful Blood Bay color


Tanny Wade Bux
1998 Bay Mare
| | | | |
| --- | --- | --- | --- |
| | | | King |
| | | King Lowell | |
| | Sire | | Miss Alice |
| | King Wade Bux | | |
| | | | Moolah Rocket |
| | | Moolah's Double | |
| | | | Flying Miss Bob |
| Tanny Wade Bux | | | |
| | | | King Bars |
| | | King Bar Nowata | |
| | Dam | | Nowata Josie |
| | Tanny Rose | | |
| | | | Rosa Evs Pa |
| | | Misty Jay Lynn | |
| | | | Misty Bouncer |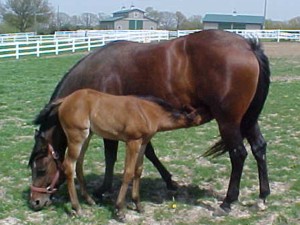 We couldn't believe it at first, when we found Tanny for sale in 2002. She was only four years old, and only three generations removed from the legendary King, one of the greatest Quarter Horse sires in history!
She came to us bred to Air Force Two, and produced our little painted Princess, her first foal, in 2003. We bred her to Zan Parr Jack, and produced Lady in 2004. We were so pleased with Lady that we re-bred Tanny to Zan Parr Jack immediately, and the result was our precocious little stallion, Zack, born in March, 2005. All three are intelligent, have great conformation, and are loaded with "Cow."
Tanny is our "Boss Mare." We have chosen to leave her open for next year, so that we'll have a chance to see what she can do when she's not in foal! We think she'll be a great cow horse as well as a great broodmare.