ABOUT US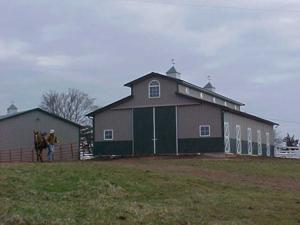 John and Liz Smith are the co-managers and trainers at Iron Horse Ranch Quarter Horses, as well as doing all the mucking and hauling.
Both of them have a love for horses that goes back to childhood. Both remembered that love and actually started owning and training horses much more recently, in 1998.
They have attended numerous clinics with professional trainers, done much reading, and had a lot of seat-of-the-pants experience since then.
They are members of AQHA, APHA, Back Country Horsemen of America, and the Moniteau Saddle Club.
Their proudest accomplishment at Iron Horse Ranch is a happy pasture!
They wish to thank the following people and organizations for help, advice and support in their efforts:
Quail Valley Veterinary Clinic
Wayne Howard
Marie Morrissey, Marie's Pet Care Service & Job Site Cleaning
Joyce Fahrni, Farrier
Steve Robinette, Robinette Farms, Hartville, MO
Lazy E Ranch, Guthrie, OK
North Farms LLC, Grove, OK
Mary Bowden, Dreamweaver Ranch, Springtown, TX
Debbie & Rick Miller, Sallisaw, OK
HLW Builders, Fulton, MO
Rockin J Horse Stalls, Mannford, OK
Jennifer & David Urich
Linda & Greg Beutenmiller, Beutenmiller Cutting Horses, Harrisburg, MO
The Moniteau Saddle Club
Carolyn Twardowski
Cheri & Kevin Messerli, K Bar A Arena, California, MO
Sherri & Bryan Caperton, Bear Creek Trail Rides, Branson, MO